Swarthmore College
Class of 1966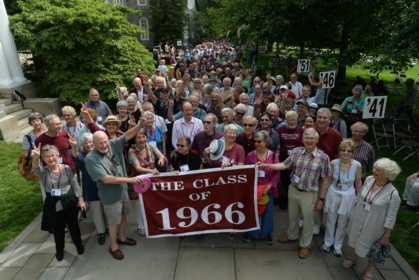 June 2016
Themed Social, Tuesday, May 25:
Final Zoom Event for our 55th Reunion
After tfour successful events on Zoom to get our 55th Reunion rolling, we are headed into our final event this spring with a Themed Social gathering on Tuesday, May 25 at 8 PM EDT.
On Tuesday, May 25th, we will have "Themed Social" patterned a bit as if we were gathering in our dorm lounge at the college after dinner on Friday evening of Alumni Weekend. We will start either in breakout rooms of our choosing on selected topics with classmate facilitators or in a breakout room with no set theme other than catching up with those who join you. The selected topics include: 1) Medical ethics with Alex Capron, 2) Sustainability and Climate Changes with Terry Chapin & John Wehmiller with input from Rich Truitt, 3) Issues in K-12 Education with Steve Gessner, 4) Arts Activism with Lucinda Brown Kidder, and 5) Oral histories of Civil Rights Activism 1962-64 with Daniel Pope, Frank Cochran, Carl Abbott, and Tom Webb. After 45 minutes, the breakout discussions will end, and we will be all together with a chance for a second breakout session with a different set of classmates and open discussion.
Our reunion planning group includes Tom Riddell, Dare Thompson, Jill Grubb, John Wehmiller, Bob Levering, Jody Williams, and Tom Webb. The Alumni Office has provided Zoom support for activities and events, which have ranged from "academic" affairs such as John Morrow's discussion "A Warning from Weimar" on April 19 to social gatherings (cocktail hours, discussion of various topics), to artistic endeavors including FREEBO and Alice Howe's concert May 11. We also enjoyed a discussion of the documentary "The Boys Who Said No", which Bob Levering helped produce and Michael Ferber and Bob Eaton '65 appeared in.
Our class website (Swarthmore66.com) remains a good place to be in touch with each other via its private messaging when you don't have a classmate's email address. Check out also swarthmore.edu/alumni.
We want to remind you that our 50th Reunion Class Gift of the Class of 1966 Summer Internship and Mentorship Fund is still growing at just over $181,000 with a goal of reaching $250,000. You are encouraged to contribute to it along with your annual giving to the Swarthmore Fund.Each summer the Class of 1966 Fund pays Swarthmore students who mentor members of the Chester Children's Chorus participating in the Swarthmore Science For Kids program. We will soon be updating you on CCC activities, some of which you can see in the video from its 25th anniversary gala from last summer. Great to know that our activism in Chester in the early 1960s can manifest today as support for the children in this community program.
Please contact me (508-336-4244) and others on our committee if you have any questions or suggestions.
Looking forward to seeing you at one or more of our events this spring.
Tom Webb, Class of 1966 Reunion Organizing Chair
thompson_webb_iii@brown.edu
Jill Grubb
jillgrubb44@gmail.com
Robert Levering
RELevering@aol.com
Tom Riddell
triddell@smith.edu
Dare Thompson
darethompson@gmail.com
Jody Williams
jdgwms@att.net
John Wehmiller
jwehm@udel.edu
ANNOUNCEMENTS
Chester Children's Chorus Videos:
Just click on links below to see the video of the Chester Children's Chorus in action.
"I Can't Breathe" Video as of 2016 and with updated introduction by John Alston in 2020
Our Class Gift supports members of this chorus to learn about science in the Science for Kids summer program at the college.
Wednesday FREEBO concerts
I am doing a weekly online streaming show called "INSIDE LIVE with Alice & Freebo," every Wednesday at 5 Pacific, 8 Eastern time. It's a very cool show, we've gotten excellent response, 20 episodes so far, and some great special guests each week.
Here's a blurb that might well explain who we are and what we do:
On "INSIDE LIVE with Alice & Freebo", acclaimed songwriters and accomplished musicians Alice Howe and Freebo feature weekly musical guests for a writers-in-the-round concert and musician-on-musician interview. Freebo is a genuine folk, rock and blues icon who, after over 40 years of recording and touring with many of the great artists of our time (Bonnie Raitt 10 years, CSN, Maria Muldaur, John Mayall, Ringo Starr, Dr. John, Neil Young, & many more) is regarded as one of the most gifted singer-songwriters of today. Singer and songwriter Alice Howe is a rising voice in modern folk and Americana whose music is a contemporary love letter to 60s folk and timeless blues. Her critically acclaimed debut album, Visions, was produced by Freebo. Together they will take you behind the scenes and inside the music with some of the world's most iconic and talented musicians, songwriters, singers, and recording artists in rock, roots, blues, Americana, and folk.
Peace, FREEBO